Gundogs Slideshow
ABOUT US
Professor David Brigden, has owned, bred and worked gundogs since the mid 1970s. His first dog was an Irish Setter bitch. She was his introduction to working gundogs. In 1980 he set up Braithwaite Gundogs breeding Labrador Retrievers, Weimaraners and German Wirehaired Pointers- primarily as working dogs but some have appeared in the show ring and done reasonably well.
In terms of working his breeding has been successful in agility and obedience events, as well as in field and working trials. His German Wirehaired Pointers have been members of Regional Obedience Teams at Crufts, have won Field Trials and Guns Awards and in Working Trials he is the breeder of the only gundog to achieve the title, International Working Trials Champion (Int WT Ch Braithwaite Hanky Panky C.D. Ex, U.D. Ex, W.D. Ex, T.D. Ex - UK and Ireland). Others have been involved in displays for the British Association of Shooting and Conservation and Countryside Alliance as well as in advertising and education.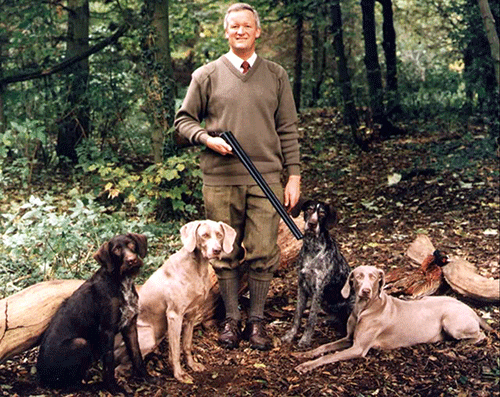 He was for seven years a member of the German Wirehaired Pointer Committee holding the offices of Treasurer and Vice Chairman as well as being Secretary of the Hampshire Gundog Society where he is a life member. He is currently a member of the North of England Weimaraner Society, The Weimaraner Association, The Weimaraner Club of Great Britain and The Weimaraner Club of Scotland.
He is also a Member of the Kennel Club.
He has judged extensively at all levels: Exemption, Limit, Open and Championship Shows. He awards CCs in German Wirehaired Pointers and Weimaraners .He has judged Gundog, Hound and Terrier Groups and Best in Show at Open Shows and the Gamekeeper Classes at Crufts in 2004 and 2008.
To fund his dog activities, David, who is a graduate of Liverpool, Bangor and Glyndwr Universities, works as a Consultant in Medical and Dental Education. In this sphere of work he is well known regionally, nationally and internationally publishing papers in many peer reviewed journals.